ABOUT US
Southwestern States Commercial Service 1.877.828.2473
Mission Statement: Arizona Wings N' Stings means Quality Service - to provide effective, innovative solutions for Bird and Bee control problems to our customers.
Vision Statement: To have Arizona Wings N' Stings regarded by both our customers and employees alike with appreciation and caring for being trustworthy, honest and able to solve all of our customers bird and bee control problems.
Quality: Do it right the first time, on time, every time, even when no one is watching which is most of the time. We are accountable to our customers, peers, and ultimately to God in all things we do.
Customer Satisfaction: We get called on to be professional problem solvers. The customer is entitled to be satisfied with the look and results of our work.

<![if !vml]>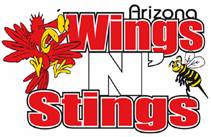 <![endif]>

Arizona Wings N' Stings LLC Pigeon Control Specialists are dedicated to providing superior customer service and superior results for our clients !

Our Guarantee to you


All results are Guaranteed and workmanship is Guaranteed for 5 year or more and most all of the products or devices we use or install are guaranteed for 5 years or more -
Call for a free inspection and see what we can do for you
About Our Company & some of our Credentials
Former owner Aaardvrak Pest Control, Inc. 1981 - 1997

Family owned and operated

since 1997

Better Business Bureau Program Member

Never a complaint filed with BBB or Structural Pest Control Commission

in over 26 years of doing pest & bird control work in Arizona

Structural Pest Control Licensed in Arizona #5474

Business Licensed for bird control in Las Vegas, Nevada

Have Cage code, Federal Ein # for government work

Fully insured - from homes to hangars.

Member of Phoenix Chamber of Commerce

Members Arizona Pest Professional Organization - AZPPO

Member NWCOA (Nuisance Wildlife Control Organization)

Members of National Pest Management Association

Member of NPMA Wildlife Leadership Group

Certified Bird Barrier Bird Control Installers
Certified Bird Be Gone Authorized Installers
OvoControl P - Birth Control for Pigeons applicators
Installer of Hotfoot, Nixalite, Flybye, Bird-X, BirdBuffer and Bird-Tec control products plus many others.

Types of Facilities Serviced
We have serviced 4000 plus homes and 100's of businesses along with many different and unusual types of structures like freeway underpasses, gas station canopies, cooling towers, billboards, parking garages, casinos, libraries, multi-story buildings, warehouses, hangars, hospitals and any other structure where birds are a problem or hazard.





Hours




Business hours are 8:30 am -5:00 pm Monday through Friday

Saturday hours are 8:30 an - 3:00 pm


Same day service when available depending on time of year.

Payment plans including cash, check, Visa/ Master/Discover & American Express Cards upon completion of our work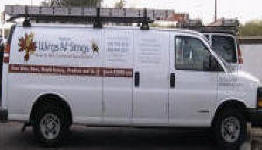 Unlike some companies in town who show up in an old truck with questionable insurance, we use clean well marked company vehicles and trained, experienced, uniformed personnel doing the Job Right, The 1st Time.

We do not subscribe to fast cures, gimmicks or one method fits all. No matter how big or small a project is we look at each situation with an open mind and based on our extensive knowledge and experience analyze what is going on at that location, why are birds in this location and then recommend what we feel will look the best and what will work the best for our customer and their budget.
HISTORY - Arizona Wings N' Stings was started in 1997 as one of only a few companies in the entire southwest that would specialized in solving human interaction problems for Pigeons and Birds where they come in contact with humans or animals causing image, health and liability problems or concerns.
Before 1997 we did General Pest Control along with Bird, Bee & Gopher Control work under the name Aaardvark Pest Control, Inc. which was started in 1978 until I sold our business which had routes all over the Phoenix and the East valley area to the largest pest management company in the world so we could just specialize in Pigeon & Bird Control or Exclusion and Bee Removal.
After 26 plus years in the Bird and Pest control business we have learned a great deal through training provided by some of our suppliers, membership in the Nation Pest Management Association and the Arizona Pest Professional Organization, but our real training comes from 1000's of man-hours of both hands on field work and experimental application work using different exclusion or deterrent materials and methods to find out what looks good and about what will work and what will not work in different situations and structures. The manufactures of different bird materials sometimes make claims that don't hold up as claimed to the birds or to the intense desert heat or the north country cold, rain and snow.
BEE CONTROL - In Phoenix and the surrounding cities we have also been involved in

doing bee control and hive removal work which does include treating Africanized ( Killer ) and European bees that have become a danger to people or pose potential problems and dangers because of the location where the bees have swarmed to or where they have started to build a hive.
A little more about associations:


CONTACT US TODAY FOR AN ESTIMATE ON HOW WE CAN HELP YOU .