BEES
Southwestern States Commercial Service 1.877.828.2473
Contact our office about bee removal services or wasp control problems that you may be having, we can help you.
Bee control and wasp removal services are available In and around Phoenix and the surrounding cities only.

<![if !vml]>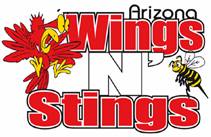 <![endif]>

Phoenix, Arizona Bee Control and Removal Services

Bee, Killer Bee & Wasp Control or Removal

DANGER -- DO NOT TRY TO DESTROY EUROPEAN OR AFRICANIZED "killer" BEES ON YOUR OWN.

OH MY GOSH - Have you just come home from work around 4 or 5 pm and discovered a clump of bees on a tree in your yard or on the side of your house that wasn't there when you left ?
That is what's called a feral swarm of bees that is most likely just passing through as the old queen bee and some workers are out looking for a new home, these type of swarms will generally move on in about 24 - 72 hours as long as they are not going into your wall void - if they are going into a void that will be the new home for the bees and should be treated right away. If you can wait the clump of bees out and the location is not some where that is a danger to anyone the bees will generally move on in 24 - 72 hours.
What generally happens after our bee treatment - If we have just performed a bee treatment service we would tell you that you may expect that bee activity could continue for the next 24 to 72 hours as returning bees come home and find the hive has been treated or is gone. A common occurrence is that you may even find that the bees are not going into the treated opening but are collecting on the side of a wall or bush near the treated opening in what some people describe as a softball size clump of bees. Please call us after the 48 - 72 hours if after that time, you still have bee activity. Most products that we use for bee control or removal are low or non-toxic to humans and animals and are not harmful to your property.
There may be an opening that the bees originally entered through. This needs to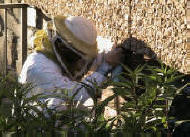 be sealed on the outside after the bees have left or died off. We can do this at an additional charge, but it is usually simple for the homeowner to do themselves with some caulking.
It is possible for another swarm to move into some other area of your property at any time, however it is unusual for a residential property to have a frequent reoccurring problem with bees unless the property is near a wash or the open desert. Sometimes a residual honeycomb in the wall can attract more bees, or the honey can create damage to the wall or drywall on the other side of the wall. Most bees swarms are removed in time, but if needed, we can perform this honey comb removal service at an additional charge after the bees are completely gone. Some locations we do tear out may require you to arrange for restoring the wall and retexturing.
Africanized Bees in many cases require treatment after dark to remove or stop the threat of attack. Bees are much calmer at night and it is safer for the surrounding inhabitants.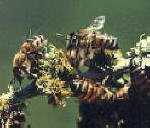 EUROPEAN HONEYBEES are what you are use to seeing when you think of bees. They live in colonies made of wax. They can last for many years at a single nest site, becoming semi-dormant during the winter months. They feed on nectar and pollen. Bees are an extremely important and beneficial insect due to its production of honey and other products, as well as pollination of most plants. However, when bees nest inside of a wall or are creating a threat to humans or animals, unfortunately the only route is destruction in most cases.

If you encounter a swarm (bees collecting together outside on a wall or in a tree), many times they move on within 24 - 48 hours. If at all possible, leave them alone and they will most likely leave you alone. When bees are swarming, they are usually migrating and are just resting. If it is close to the end of the day, and they stay overnight on your property, they will probably be quiet and still in the dark and will generally move on in the morning. If they are aggressive, please see next section and call us for assistance.
AFRICANIZED HONEYBEES (popularly known as "killer bees") are not something to take lightly. Looking just like our domestic honeybee, their behavior is quite different. They frequently attack people and animals who unwarily stray into the territory they defend around their nests. Unforeseen stinging attacks have sometimes resulted in serious injury or death. Though their venom is no more potent than that of our common European Honeybee, Africanized Bees respond in greater numbers and pursue intruders for greater distances. Also, disturbed colonies may remain agitated for as long as 24 hours. Any person or animal in the patrolled area is vulnerable. The nest itself need not be disturbed. Africanized Bees have responded ferociously to everyday occurrences such as vibrations generated by passing vehicles, power equipment and even foot traffic, many landscapers discover the bees when they do the yard work using mowers and blowers which create noise and vibrations.
EXPERTS AGREE THAT THE BEST METHOD OF ESCAPING AN ATTACK IS TO COVER YOUR HEAD AND RUN FOR COVER INSIDE.
A little history on Africanized honey bees (AHB) they were first discovered in Arizona when a colony, established in the roof of a Tucson house, stung a small dog to death on 6 June 1993. Experienced beekeepers and federal and state scientists who examined the remains of the colony suggested the colony was between 4 and 8 months old, placing its arrival into the state possibly as early as October, 1992. This was the second state in the U.S., after Texas, to confirm the natural spread from Mexico of this non-native species.

By the end of 1993, the Arizona Department of Agriculture had recognized 57 AHB colonies from central and southern Arizona. Ten of the AHB colonies detected were involved in stinging incidents, none leading to human fatalities. By midyear 1995, 95 AHB colonies had been detected, 28 involving stinging incidents.

Then the first human fatality from AHB in Arizona occurred on Oct. 6th. 1995, east of Phoenix, when an 88 year old woman was stung over 1000 times. A second fatality, a 66 year old man stung approximately 130 times, occurred only 12 days later, also near Phoenix. Elderly people are at greater risk from the bee venom.

Africanized honey bees are the result of crossbreeding between European and African strains of honey bees. In the 1950's, Brazilian geneticists reasoned that bees from tropical Africa might be better suited for the climate of tropical South America than were the European honey bees, whose performance was disappointing.

Unfortunately, Africanized bees were released from the breeding

program before selective breeding was completed against the stronger defensive behavior which characterizes African bees. The AHB has taken to its new environment with vigor. They spread prodigiously since their release, with the leading edge advancing of up to 300 miles per year through the tropics of South and Central America. Meanwhile, but few colonies of AHB turned up in the U.S., accidentally transported on shipments of materials from South and Central America

The first time that a swarm of AHB was verified to have entered the United States on its own was in Hidalgo, Texas in October, 1990. The bees have since spread north and west through Texas and northern Mexico and currently is known to be in the 4 states bordering Mexico. Many sharply different predictions have been made as to how far AHB will eventually spread into the US. Fortunately the initial rapid expansion seems to have slowed.

Abridged from an article in California Agriculture 51:22-25. For further reading: the complete version of this article appears at the university site of one of the co-authors, entomologist, Kirk Visscher.
PLEASE NOTE: THIS IS FOR GENERAL INFORMATION PURPOSES ONLY AND NOT MEANT TO TAKE THE PLACE OF COMMON SENSE OR PROFESSIONAL MEDICAL ADVICE.

Localized swelling and pain are typical reactions to a sting by a wasp or bee. These symptoms gradually disappear within a few hours in most people. When stung by a honeybee, the stinger generally is left behind. Carefully remove it by scraping across the stinger with a credit card so that the small attached poison sac is not squeezed, which can force more venom into the wound. Some kinds of bees and wasps do not leave a stinger.
RULE OF THUMB - 10 stings per pound of body weight > CALL FOR HELP & SEE A DOCTOR NOW !! you are in danger of death as your different organs could start to shut down because of the bee venom, people have died from far less stings. Small children and the elderly are the most likely people to have a problem.

The sting site on a small area of the body may be treated with an antiseptic to prevent possible infections. Cool lotions or compresses can help relieve pain and swelling. Crushed aspirin or powdered meat tenderized applied to the sting also can help reduce the pain. If numerous stings are received, oral antihistamines can reduce swelling and itching. Only take these with the usual precautions of this these products.

A small percentage of the U.S. population (approximately 1 percent) becomes hypersensitive to bee stings and may suffer sever allergic reactions. This includes difficulty in breathing, dizziness, nausea and development of hives and swelling. These "systemic" effects from a sting may require immediate medical attention from a physician. An allergy specialist may advise a series of injections to lessen sensitivity and some people may even need to have shots.

AFRICANIZED HONEYBEES, because of their inclination to attack aggressively and in groups, will intensify this problem. Some individuals have been stung hundreds of times in only a few moments. That alone is enough to cause a reaction in someone that is not even allergic to bee stings. Most often, people who have died from Africanized bee stings have been people who have not been able to get away from the bees quickly.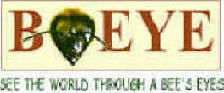 Please call us for any of your bee or bird control questions and problems.